My first camera came with a recommendation from one of the foremost technical journalists of the age. I was lucky to know Amateur Photographer's legendary technical editor, who was also a well-known author. He listened to my needs, considered my budget and came up with what he considered to be the best mid-range 35mm camera of 1963. I couldn't afford the camera I really wanted, an Asahi Pentax SV in stealthy black. I certainly couldn't afford a Leica M3, which was considered to be in the Rolls Royce category. No, I had a budget, but I needed a bit of help in reaching a decision.
Buying my first camera:
Box Brownies and old folding cameras were my photographic fodder as a child and into my teens. All were family cast-offs, and I had never considered actually buying a camera. The fact that my first camera came so highly recommended is a bonus. The choice is a good indicator of what the industry considered to be a superior, relatively inexpensive mid-range camera of the early 1960s, just before the SLR swept all before it and, within ten years, had even brought the mighty Leica to its knees.
At the time, I was a budding young journalist at the weekly technical magazine Motor Cycle. I led an exciting life, road testing all types of powered two-wheelers, writing articles and getting to know an industry that would feature large in my entire working life. In fact, my years at the magazine are among my happiest.
Our editorial offices were at Dorset House, on Stamford Street, not far from the bustling Waterloo Station in London. We were part of the giant Iliffe publishing empire, and Dorset House was home to a vast array of technical publications, including Autocar, Flight International and Amateur Photographer, all of which are still thriving.
My First Camera: Advice from AP
Amateur Photographer's offices were just two floors below my lair at Motor Cycle, and I was always popping in for a bit of advice from the legendary technical editor, Neville Maude. Watching the professionals from the photographic department at work spurred my enthusiasm, and I lusted after a "proper" camera.
At that time, too, I was working with a youthful Don Morley, who often accompanied me on road-test photo shoots and who later went on to much greater things in the world of news and sports photography. But it was Neville Maude who guided me to my first camera.
I wasn't expecting to produce pictures for publication — we had a photographic department for that, and there were some pretty strong union rules about journalists taking pictures — but in an emergency, my photographs could be used.
If there were ever to be a chance of getting a picture published, I needed something half-decent. Yet with an annual salary of just under £500, my choices were limited.
As I mentioned, I couldn't run to the Pentax SLR, which is perhaps as well since the market-beating Spotmatic was still a year away, and I would have felt short-changed after a few months. And a Leica M3, which cost a staggering £125 with a 50mm Summicron, was totally out of the picture. My first camera was doomed to be of a lesser breed. AP's Neville Maude sorted out the wood from the chaff, however, and persuaded me that the Agfa Silette would make the ideal device for a young journalist.
My First Camera: The Agfa Silette
To make the Agfa Silette my first camera would cost a month's wages. A massive decision. Eventually, after my birthday in 1963, I scraped up enough cash. Neville Maude gave me an AP purchase order on Westminster Photographic, just across the Thames from Dorset House, and I scurried over Waterloo Bridge one lunchtime to do the deal. I think it must have been the first trade discount I ever enjoyed.
The little 35mm Agfa Silette cost twenty-four pounds, nineteen shillings and sixpence (about £24.97), and the leather ever-ready case set me back a further £2 15s 6d (about £2.77). And what's the use of a camera without film? So I added in a roll of Kodak for 5/1d (about 25p). That would have left a potential hole in my finances of over £28. Fortunately, thanks to AP, I got a discount of £2 8s 0d (£2.40).
My First Camera: The insurance
I couldn't wait to return to the office and load that first film. And that was the start of my photographic career.
The Agfa's list price of £25 is equivalent to £750 in 2023. This was no small decision and needed a lot of thought. In fact, though, the price is not far off the mark for a starter camera in 2023.
It was such a lot of money for a young Evans that insurance was warranted. I was ever cautious and decided to shell out a further 7s 6d — about 37p — for a year's all-risk cover. Unknown to the National Parcels Insurance Company was that I was planning a late-summer road trip to Germany on my old Matchless 350cc single-cylinder motorbike. They did not appreciate the full extent of the risk when setting the premium. I wouldn't have touched it with a bargepole. Fortunately, though, the Agfa came to no harm, and I never had cause to claim on the policy.
My first camera: The results
Sadly, I cannot find negatives or prints from the Agfa Silette. It would have been good to unearth a picture that had actually been published, but the archives are silette on the matter. I do, however, possess scans of a few snaps taken on Sunday, 28 August 1963, just over a month after I bought the Agfa. How do I know the date? Well, on the following day, August 29, I was a press guest at the Charnock Richard services station when the Minister of Transport, the Rt. Hon The Lord Marples, PC (Ernie Marples as was), opened the Preston to Thelwall Viaduct section of the M6 motorway.
A youthful Mike Evans and budding journalist (left) is pictured above with a friend, Janice, on the road test Lambretta Li 150 scooter in Lancashire,, just a couple of miles from the new motorway. The busy backdrop gives an example of urban architecture in South Lancashire at the time. Wielding the Silette was another friend Frank who subsequently went on to marry Janice. They have been lifelong friends. And here is the happy couple, Janice and Frank, aboard the Lambretta Li 150 and photographed on the Agfa by editor Mike. After all these years, I wonder if I should have chosen a more neutral background!
Scooters were big news at the time and were seen as the future of motorised two-wheel travel. At The Motor Cycle, we tried our best, but we didn't really like them. Scooter riders were known as "mods" because of their modern gear, in contrast to the oily "rockers" who rode the more traditional motorbikes and wore black leather jackets. This Lambretta was featured in a road test which was published in the magazine on 5 September 1963 (below). I am aghast to see that I completed 1,400 on the little beast, which had a top speed of only 55 mph and a comfortable cruising speed of 45 mph. I must have been a patient soul in those days.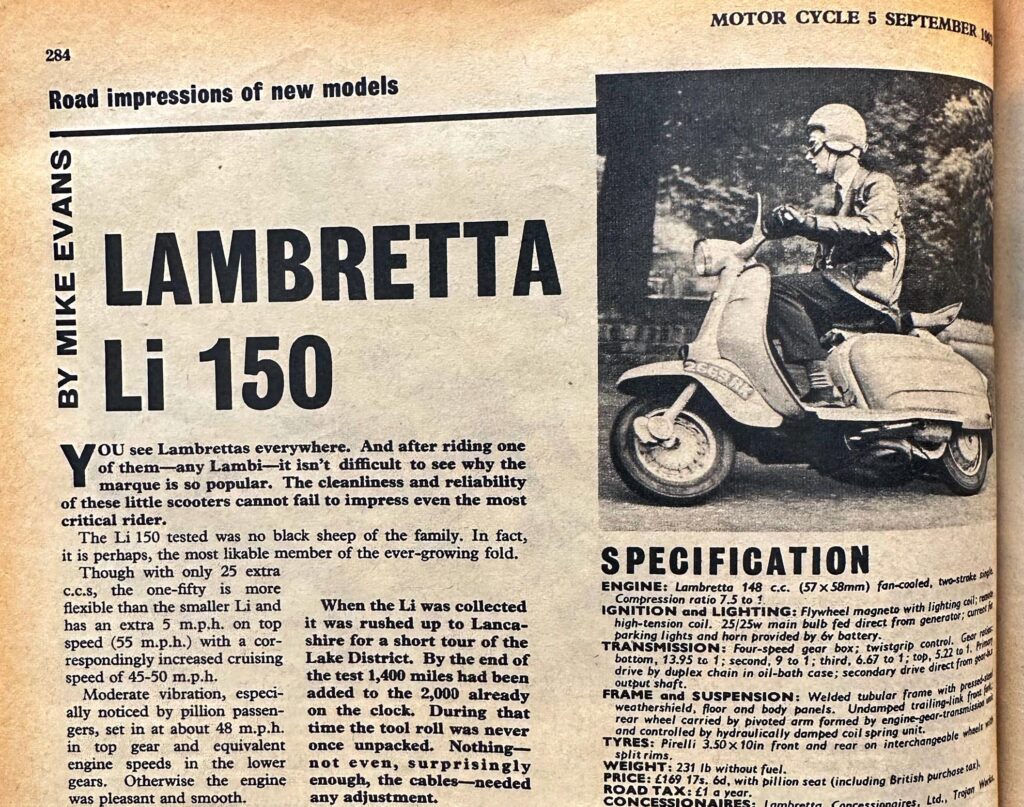 The Lambretta cost £179 17s 6d, which is seven times the price of the Agfa and equivalent to £5,000 today. The annual road tax was just £1, incidentally. While it isn't obvious from the picture, I see from the article that "the test model's colour scheme is an attractive light grey with emerald green side panels and steering-head shroud. Alternative combinations are ruby red-light grey and navy blue-light grey". You got a lot for your £180 in those days…
Historical Note: The Strand, which runs between Aldwych and Trafalgar Square in London WC2, was quite a draw for photographers in the 1950s and 1960s. Westminster Photographic was at 81 Strand and, I believe, became a branch of Dollands and then R.G. Lewis. Perhaps readers can confirm this and give us some dates. Today, there is just one camera store in The Strand, the London branch of London Camera Exchange at No. 98, just a few doors up from the former site of Westminster Photographic.
What was your first camera, and how did you come to choose it? What did it cost, where did you buy it, and do you still keep the receipt?
---