Blackmagic Design has announced the Blackmagic Cinema Camera 6K, a high-end digital film camera with a full-frame 6K sensor. It has 13 stops of dynamic range, sports an L-Mount, dual native ISO up to 25,600 for effective low-light performance and recording to CFexpress cards. The new model features a 24×36mm 6K sensor, allowing for large-format cinema camera image quality in a portable, lightweight body. The L-Mount of the Blackmagic Cinema Camera opens up use of a wide range of new and vintage lenses.
Wide dynamic range
The Blackmagic Cinema Camera 6K is claimed to produce precise skin tones and rich organic colours. The full-frame sensor offers a wide dynamic range, flexibility of using a wide range of L-Mount for lenses and a built-in optical low pass filter custom designed to match the sensor.
Customers also get fast CFexpress media and the camera can also use Pocket Cinema Camera accessories. During cloud and mobile work, the camera records both deep bit depth Blackmagic RAW and H.264 proxies. According to the manufacturer, no other camera includes this level of technology, image quality and portability.
The Blackmagic Cinema Camera 6K provides a native resolution of 6048×4032. That is almost three times larger than a Super 35 sensor. This allows shooting with a shallow depth of field, or with anamorphic lenses uncropped for a true cinematic look. Whether users are shooting in bright sunlight or in almost no light at all, the 13 stops of dynamic range with dual native ISO up to 25,600 is said to provide impressive low noise images in all lighting conditions. Plus, videographers can shoot up to 36 fps at full sensor resolution or 120 fps windowed.
The large sensor in the Blackmagic Cinema Camera 6K allows use of various film formats and aspect ratios. Using the full area of the sensor provides a unique open gate 3:2 image, permitting reframing in post-production. The sensor also lets customers work in true 6:5 anamorphic without cropping. This makes widescreen cinematic images more detailed and in higher resolution than previously possible.
Creators can even use the classic Super 35 sized window on the sensor to achieve an instant 'close up' version of their shot. This fits seamlessly with open gate footage. All this should provide distinctive cinematic content at the highest quality.
L-Mount offers a wide range of lenses
The Blackmagic Cinema Camera 6K features the L-Mount, compatible with an extensive range of new and vintage lenses. With a large diameter of 51.6mm, the L-Mount works with the latest full-frame lenses from manufacturers such as Leica, Panasonic and Sigma. The very short flange distance of only 20mm means users can easily add adapters. Various lens mounts can therefore be employed without impacting image quality. With L-Mount, customers get a single mount that works with virtually any lens for unlimited creative choice.
Blackmagic Cinema Camera 6K can shoot in all standard resolutions and frame rates, from HD up to DCI 4K and even 6K. Still images can be shot at 24.6 megapixels. The camera will shoot up to 36 fps at 6048×4032 3:2 open gate or 60 fps at 6048×2520 2.4:1 and 60 fps at 4096×2160 4K DCI. For higher frame rates, customers can window the sensor and shoot up to 100 fps at 2112×1184 Super 16. According to Blackmagic, the camera works in true anamorphic 6:5 at much higher resolutions than other cameras using anamorphic lenses in 4.8K 24 fps at 4838×4032. Customers can even shoot 120 fps in 1080HD.
The Blackmagic Cinema Camera 6K features a built-in CFexpress card recorder. It also has a USB-C expansion port for recording direct to external flash media disks or an SSD. CFexpress media are more durable and faster than even older media, ideal for recording full resolution, 12-bit Blackmagic RAW files. Imagine capturing over an hour of full resolution 6K images on a single 256GB CFexpress card.
Screen and optional viewfinder
Blackmagic's new camera features a large, bright five-inch HDR touchscreen. On-screen overlays show status and record parameters, histogram, focus peaking indicators, levels, frame guides and more. The LCD monitor can be tilted up to 180 degrees flat and down to 47 degrees. The camera's HDR display features 1500 nits of brightness, so users can always frame their shot, even in bright sunlight.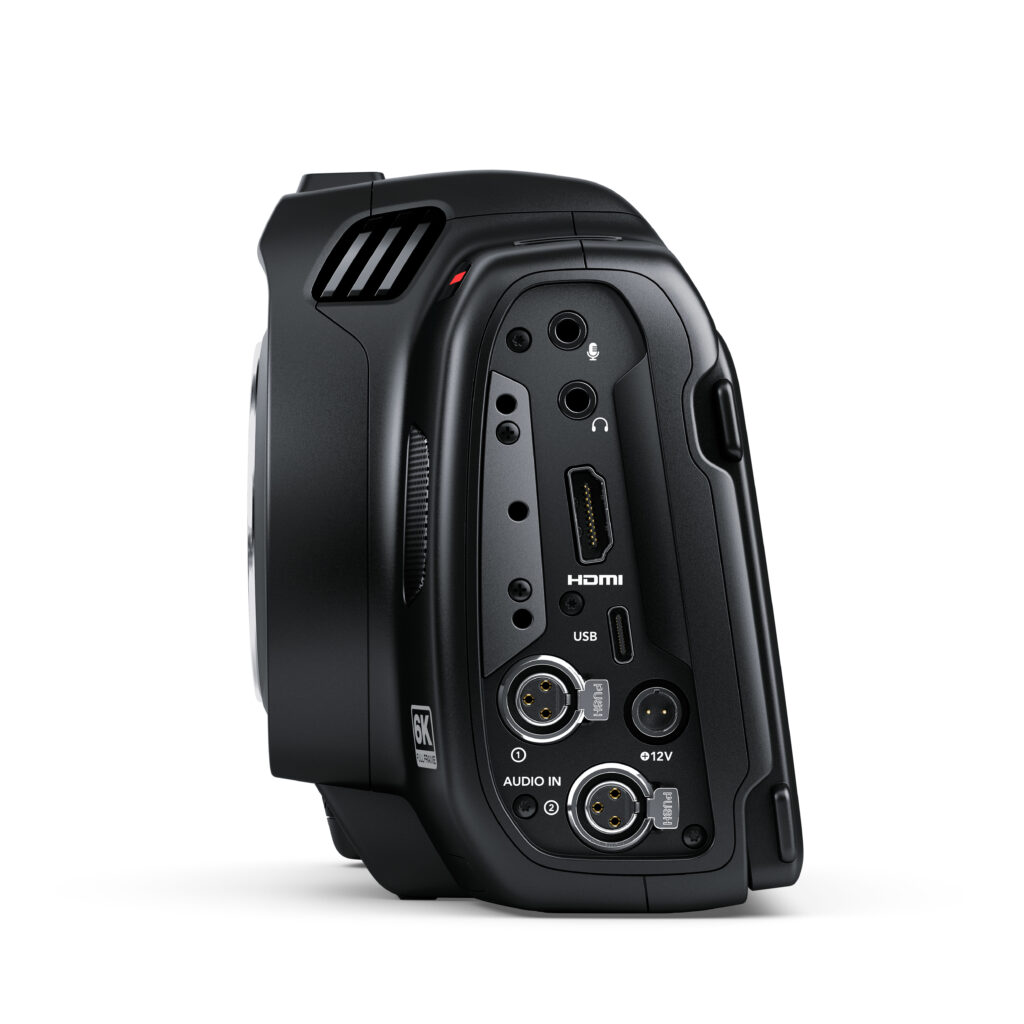 The optional external viewfinder features an integrated high-quality 1280×960 colour OLED display with a built-in proximity sensor, and four-element glass diopter for incredible accuracy with a wide -4 to +4 focus adjustment. The EVF is attached to the camera using a single screw.
The Blackmagic Cinema Camera 6K uses high-capacity NP-F570 batteries. It uses a locking DC power connector, so you don't have to worry about losing power during a shoot. Furthermore, the included AC plug pack can power the camera or charge the battery when the camera is not in use. The USB-C expansion port can trickle charge the battery, from mains adapters or portable battery packs, mobile phone chargers or laptops. The optional battery grip lets customers add extra batteries to dramatically extend the power of the camera for all-day.
Blackmagic Cinema Camera 6K Features
36 x 24mm full frame 6K 6048×4032 sensor.
Open gate 3:2, full height 6:5 anamorphic and Super 35 for creating cinematic content.
L-Mount compatible with a wide range of still photography and cinema lenses.
Records full resolution up to 36 fps or 120 fps windowed.
Extremely fast CFexpress card recording.
Adjustable, HDR 1500 nit LCD screen.
Optional Blackmagic Pocket Cinema Camera Pro EVF.
Larger NP-F570 battery, optional Blackmagic Pocket Camera Battery Pro Grip.
Availability and Price
The Blackmagic Cinema Camera 6K is available now for US$2,595, excluding local duties and taxes, from Blackmagic Design resellers worldwide.
---
Join our community and play an active part in the future of Macfilos: This site is run by a group of volunteers and dedicated authors around the world. It is supported by donations from readers who appreciate a calm, stress-free experience, with courteous comments and an absence of advertising or commercialisation. Why not subscribe to the thrice-weekly newsletter by joining our mailing list? Comment on this article or, even, write your own. And if you have enjoyed the ride so far, please consider making a small donation to our ever-increasing running costs.
---