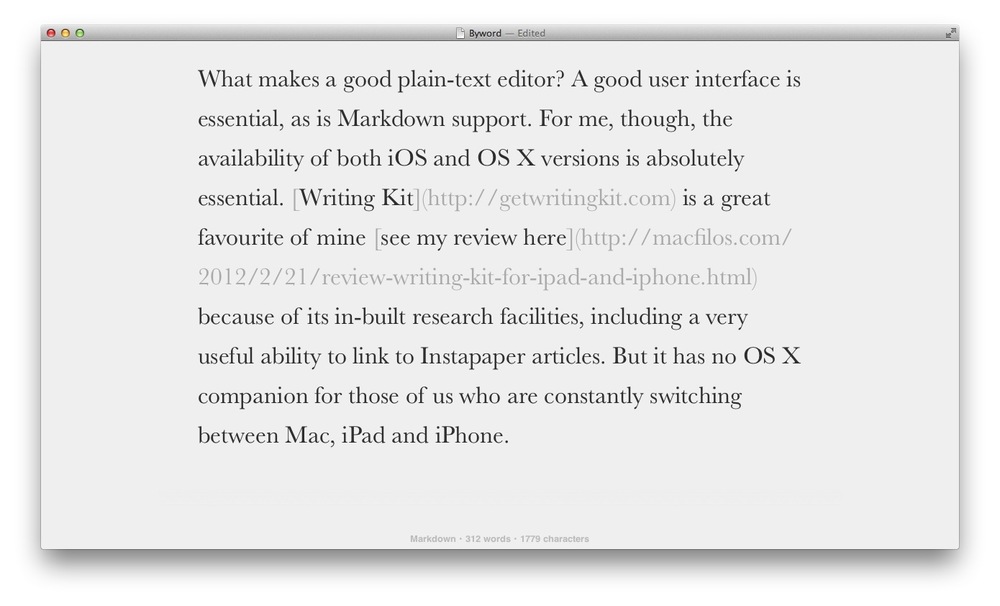 What makes a good plain-text editor? A good user interface is essential, as is Markdown support. For me, though, the availability of both iOS and OS X versions is absolutely essential.
Writing Kit is a great favourite of mine see my review here because of its in-built research facilities, including a very useful ability to link to Instapaper articles. But it has no OS X companion for those of us who are constantly switching between Mac, iPad and iPhone.
Byword, on the other hand, is a no-nonsense text editor that comes in three versions, iPhone, iPad and Mac. It has a beautifully simple UI with full-screen option and highlighting of the current paragraph so you can macro-focus on the words in your mind.
The latest version, released last week, brings some important improvements to synchronisation. No longer do you have to choose between iCloud or Dropbox; you can now have both enabled at the same time, in addition to a local-save option. All three versions now take advantage of iCloud's ability to create folders, an absence that was irksome in the old version.
I use Byword to prepare most of the Macfilos articles and the new ability to sort drafts into folders is essential if I am not going to get bogged down in a long list of files.
I also take advantage of Byword's ability to export in HTML format which can then be pasted directly in to the Squarespace web-based text editor. New, though, is the facility to export a file as a PDF document.
Byword is available in the both the Mac and iOS App Stores. The universal iOS version cost £1.99 while the Mac application costs £2.99. For what you get, this is unbeatable value.
by Mike Evans, 4 September 2012