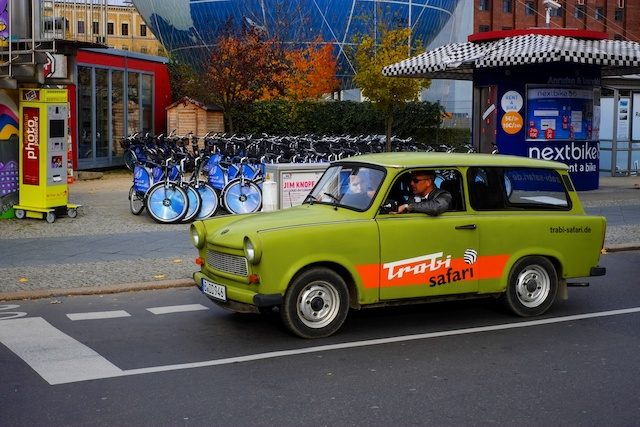 Last weekend, by coincidence, I was back in Berlin in charge of a group of British visitors keen to do the tourist sites. Until I arrived at Checkpoint Charlie and looked at the date, it hadn't occurred to me that it was November 9, exactly 23 years after the fall of the Berlin wall.
That is the day in my life that I will always remember. Again by chance, I had arranged a visit to Berlin and was as surprised as anyone when I heard that the communist government of East Berlin had mistakenly and prematurely announced on live television that travel restrictions had been lifted.
As a result there was a mass stampede to the border crossings where the hapless guards had no idea what to do. It was touch and go whether they fired at the crowd. In the end they just opened the barriers and let people through. Less than a year later the communists had been sent packing and Germany was reunited.
Checkpoint Charlie, known to the East Germans as Zimmerstrasse, was reserved for vehicular traffic and was certainly the best known of the many crossing points in the city. It has survived in true capitalist fashion as a tourist attraction. The old museum is still there (but expanded) just as it was before 1989 and the checkpoint hut is manned by actors in American uniforms. Bits of wall and Russian army hats are still on sale.
A large area of land at the junction of Zimmerstrasse and Friedrichstrasse is now reserved for the Trabi Safari venture where tourists can set off in one of the GDR's finest two-stroke plastic limos (reverse gear extra) for a tour of the city. Until 1989 the Trabant was virtually the only car GDR citizens could buy, and then only after a 15-year wait. It must be galling for unrepentant communists to realise that their idealistic nonsense of a country has been reduced to a tourist attraction.
Before 1989 I travelled frequently between east and west Berlin; I had and still have friends living in the east, and knew only too well what it was like to live under communism.
As I stood watching the Trabi Safari last weekend, I remembered the cold Sunday 23 years ago when I stood all day on the west Berlin side of Checkpoint Charlie clapping as Trabant-loads of citizens, many of whom had spent nearly 30 years behind a forbidding wall, had their first sight of freedom. It brought back a tear to my eye.
by Mike Evans, 13 November 2012