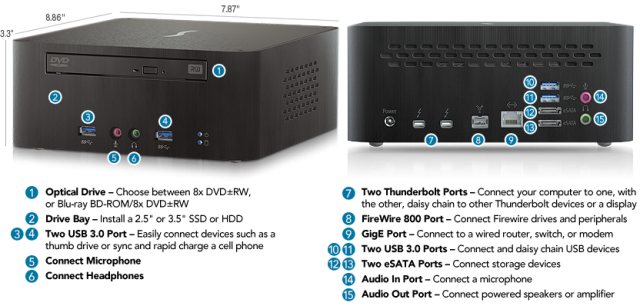 I have a soft spot for Thunderbolt. I was sold on it the day I realised my hard-disk-equipped iMac could run so much faster when I hooked it up to a Thunderbolt external drive. In fact, I transferred everything to the LaCie solid-state disk and enjoyed blistering performance with no problems up to the day I sold the iMac.
A year on and Thunderbolt remains the Cinderella of connectors. Back in January ArsTechnica questioned whether Thunderbolt could break out of its niche. At the same time, MacRumors reported that adoption of the new interface has been slowed by Intel's licensing and certification.
For whatever reason, Thunderbolt drives are few and, to a large extent, unexciting. And Thunderbolt hubs, much heralded, remain unlaunched. Despite the huge advantages of Thunderbolt, with a transfer speed of up to 10 Gbit/s, there appears to have been little investment in periperals and little active promotion of the standard. Meanwhile, USB 3.0 with its 4.8 Gbit/s is becoming more popular.
Things could be changing. This month Macworld said that more Thunderbolt storage devices would arrive later this year. More exciting is the new Sonnet Echo 15 dock which goes a long way to meeting my expectations.
This impressive device includes almost everything you could want, including an optical drive. The dock uses one Thunderbolt cable to connect to the computer, thus minimising cable clutter. Features include the ability to install a 2.5in or 3.5in SATA drive, front and rear USB 3.0, eSATA, FireWire 800 and Gigabit Ethernet and audio ports plus a wide range of display options, from HDMI, DVI and VGA to Mini Display. You can even choose to have a Blu-ray drive instead of the standard optical drive.
There is only one extra I could wish for: a second Thunderbolt out port. Some earlier Thunderbolt devices, notably Seagate's otherwise-excellent Go-Flex adapter, have no out port and this means they must always be at the end of the chain.
The future for Thunderbolt is looking decidedly rosier. I cannot wait to get my hands on the Sonnet, despite the hefty price tag which is expected to be between $400 and $550.
by Mike Evans, 15 April 2013