I love the concept of Spotify. It covers all my music needs and I am now sold on the idea of a fixed subscription, less than the cost of one CD a month, which gives access to the whole world of music. In the same way I am growing to love Readly, the Spotify of periodicals. One subscription currently allows access to over 400 magazines and many of their back issues. By next year I would not be surprised to find 1,000 magazines in the kitty.
Up to five years ago I would spend at least £40 a month on photography, automotive and other technical magazines. I stopped wasting all this money when I found that I could access most of the information I need from blogs and publishers' web sites. I did miss browsing from page to page; I even missed the ads. But up to now I have been happy with my alternative sources of information. Indeed, when it comes to tests of cameras, cars and other objects of desire, bloggers are often better informed and more entertaining than the paid hacks of magazines who tend to be journalists first and enthusiasts second.
With this background, I belong to the prime target audience for Readly and I have been giving the free trial a full canter.
Platforms
Readly is currently available for iOS, Android, Windows and Kindle Fire (but not Kindle e-in readers) mobile devices. A Mac app would be very welcome because Readly magazines would be even more enjoyable when viewed on the larger screen. It would also allow a greater number of back issues to be stored, just as you used to keep a pile of magazines in the old days. Just think how much space you can recover in the corner of the bathroom.
Content
Readly is available in the USA, UK and Sweden (judging by the company name, Readly Aktiebolag, this is a Swedish outfit). While just over 150 of the titles are in Swedish, more than 250 are in English. They range wide over the whole gamut of specialist- and general-interest periodicals.
I even found Beano, a comic I was addicted to when aged eight or thereabouts. I've often thought of buying a copy for old times' sake but never plucked up the courage. Now, however, a free Readly peek has confirmed that childish humour hasn't changed much in the intervening decades. I am also happy to note that my tastes have moved on. Occasionally, one needs that sort of confirmation in life.
There are one or two weak areas in the catalogue. "Computing and technology", a field of particular of interest to me, is bereft, in the English language at least. MacWorld is available in Swedish if you have the patter. All the English-language magazines in the category appear to cover audio/video and there are no mainstream computer titles available.
All in all, despite these quibbles, I would defy anyone not to find at least half a dozen titles of interest; and that is all it takes to make the service worthwhile.
After signing up for the free two-week trial you can browse all publications and favourite those you would like to sample or read regularly. In the case of English speakers, we have the opportunity to select a medley of US and UK magazines which is highly useful, particularly in the tech field where most stuff is now published sort of in the middle of the Atlantic. In technology the two main versions of the English language converged years ago.
Initially I chose about a dozen titles, including photographic magazines from both sides of the ocean, a brace of UK car periodicals and some audio/video monthlies. This is more than enough to keep me going and I will probably prune the list once I have settled down with Readly. It is important to bear in mind that when you select a title you get access to a stack of back issues, although I couldn't decide whether there is any sort of limit because the service is relatively new. Nevertheless, there is a lot of pleasurable reading to be done.
Downloading
On the Macfilos 120 Mpbs broadband most magazines were downloaded in under 30s. This contrasts with the slow progress when using 3G. In any case, I would not recommend wasting your data allowance in downloading periodicals. Readly allows pre download and storage of any selected issues so you can stock up with reading material for later access. There is thus no need for an internet connection when reading. You can opt to download over a cellular connection but this is wisely turned off in the basic configuration. Still, it is good to have it available in emergency.
Last weekend, on a long train journey, I was browsing for new magazines and issues and I would have welcomed a queuing system to allow selections to be downloaded automatically when wifi is reinstated. This would be similar to the queue system in RSS aggregators such as Reeder where I can now initiate sending stuff to Instapaper from the wuthering depths of the Piccadilly Line. Previously this was not possible and I had to try to remember my selections until I emerged at Holborn.
By default, downloads are limited to 30 issues but this cap can be adjusted in line with the available storage on the iPad. So far I have captured 15 complete magazine issues and have used only one gigabyte of storage. This is less than I expected, about 66 MB per issue, and it means I could afford to increase the limit on downloads in order to create that eminently readable bathroom stack of back issues.
Reading
This is the first app which has made me want an iPad Air. Don't misunderstand, Readly magazines do look good even on the iPad mini. But here we are dealing with an A4 page (or A3 in the case of a double-page spread) compressed to a degree where small print can sometimes be difficult to read. Zooming is a great help but becomes frustrating after a time, particularly when you have to remember to zoom back to standard view before moving to the next page. Although I have not had the opportunity to try the app on the larger screen of the Air, I imagine it should be possible to read comfortably in portrait without any need to zoom.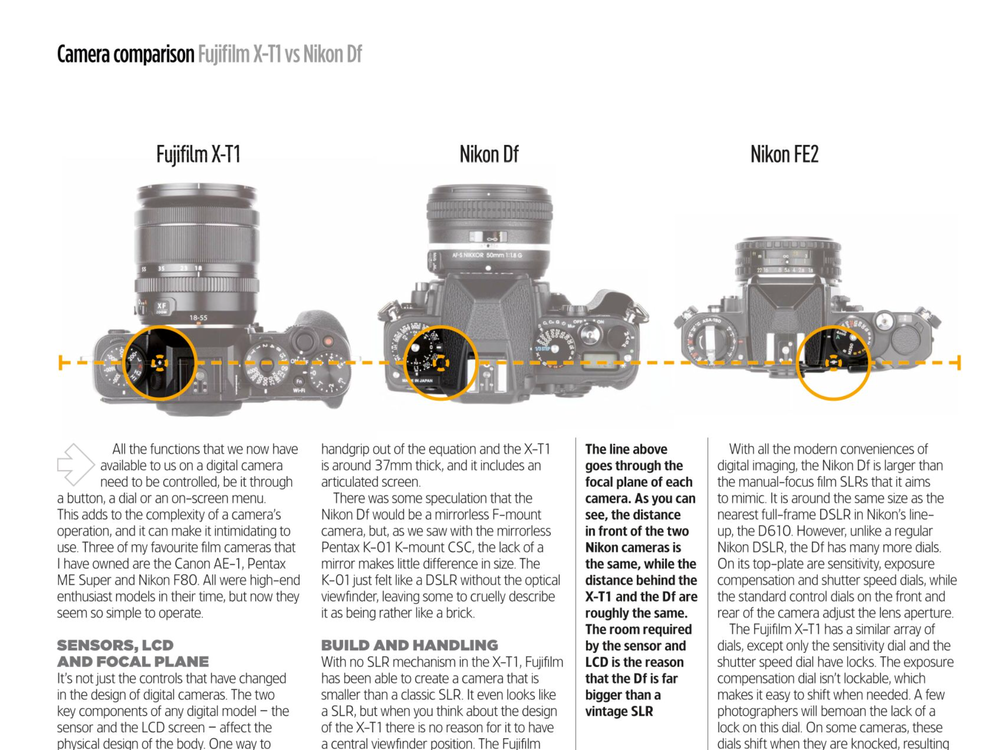 All is not lost for mini owners, however. I soon discovered that reading in landscape on the mini is preferable to using portrait format. This is counter-intuitive since most periodicals are printed in portrait format. Despite this, when viewed in landscape on the mini, the type is larger―in fact the width of the screen is only slightly less than that of the printed page. Surprisingly, too, there isn't much scrolling to be done. The mini screen in landscape mode accommodates half of typical A4 page and it is a simple matter of one flick up or down to reveal the other half of the page. On balance I prefer using landscape with the mini and it is probably even more impressive on the Air.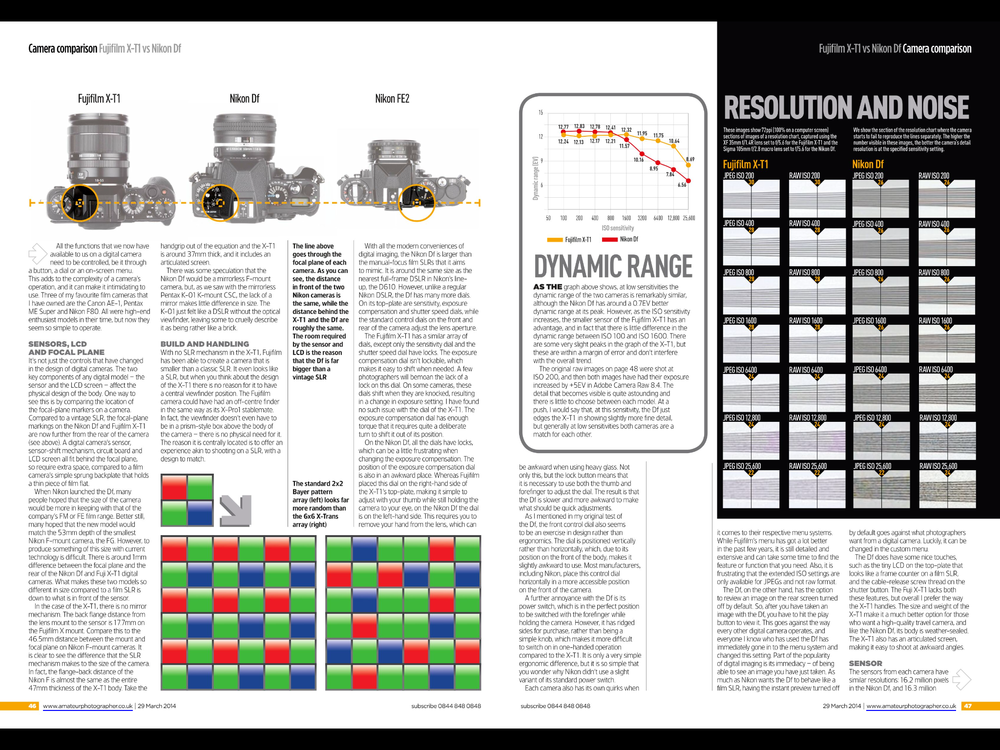 Landscape viewing gives the option of two pages to view. Articles in many magazines stretch over a double-page spread and it is often useful to be able to see the full layout as it would appear in the physical magazine. However, the pages are so compressed on the mini that reading is extremely difficult. This could be a viable option for Air owners and I suspect reading double page spreads in landscape mode will be popular.
Overall, the viewing experience is exemplary and, with the larger screen of an iPad Air to play with, I would find it hard to fault. Fonts are crisp and illustrations vivid (at least on my sample magazines but I suspect individual publishers will produce different levels of sophistication). Pagination is quick and reading is a definitely pleasurable experience.
Interaction
While most of the magazines I have tried are dumb PDF versions, there is scope for future development. Readly already includes a built-in web viewer and some publications feature a limited number of hyperlinks (notably Amateur Photographer from which most of these illustrations have been taken).
This is welcome and opens the possibility for greater interaction as Readly magazines become more sophisticated.
The web viewer includes a sharing button to cover basic functions (copy, email, open in Safari, SMS, Twitter, Facebook, LinkedIn) but it would be nice to see popular read-later services such as Instapaper or Evernote included.
In addition to the sharing button there is a simple bookmarking feature which stores selected pages alongside details of the magazine, the issue, page number and your entered bookmark title.
Navigation
Tapping on a page brings up the top menu (double-page view, bookmark and share) and a usefully sized thumbnail page bar. This is especially useful if you are returning to an issue you have already read and wish to find a particular article that you remember.
Value for money
Using Readly is like having a free pass to your local newsagent: Just sweep up as many magazines into your arms as you wish and walk out without bothering to stop by the till. Example: Among the titles I have already downloaded into the Readly app are Amateur Photographer and Autocar. Both are weeklies. Autocar costs £4.99 while AP is £2.80. This means that to buy all issues over the counter would cost a tad over £33 a month. With Readly these two periodicals represent just a small part of the material I can download and read every month for only £9.99. Whichever way you look at it, this is good value for money.
Crucially, in this example, I do not currently buy either of these weeklies. I have not bought them for over five years, although I was once a loyal reader. It just isn't worth the cost when there is so much information available free on the web. But I am happy to read them on Readly and I am being wooed along the way by the advertising. Both AP and Autocar can also now add me to their list of regular readers. Job done. Readly cooperation justified.
Publishers probably gain little direct income from Readly subscribers. But there is a potential for a vastly increased readership and, crucially, greater exposure to advertising among those readers. Advertisers will certainly prefer Readly distribution to the more normal form of paywalled viewing where ads are often stripped out or replaced by Google's click payment system. Furthermore, using Readly is just like browsing a physical magazine, page by page, ad by ad, feature by feature. This, I am sure, is the publishers' motivation for cooperating with Readly. For my part, I actually enjoy reading the advertising in technical journals. I can browse through offers, lists of items for sale and learn about new products.
Given the breadth of content, which can only become more extensive as the subscriber base increases, it is hard to imagine anyone could accuse Readly of being poor value for money. Admittedly, if you find only one title of interest then you could be better advised to subscribe direct. But this is unlikely, I think, and your interests would have to be very narrow indeed if you can find only one item of interest.
Another sweetener: If you do currently subscribe directly to any of the magazines in Readly's library (whether for physical or electronic copies) you are probably committed to a minimum period. Readly's subscription can be cancelled at any time if you decide you don't like it. And bear in mind that your Readly sub covers the family, with up to five devices linked to the one account.
Despite my dislike of paywalled sites, especially those of newspapers, Readly makes a great deal of sense to me. I am convinced even before the end of the two-week trial period and I have already handed over my credit card details. I can see more publishers joining as the months go by, just as music publishers have increasingly supported Spotify, and the future certainly looks bright, both for Readly and for us readers. This is just another nail in the coffin of printed media, but a very welcome and useful nail at that.