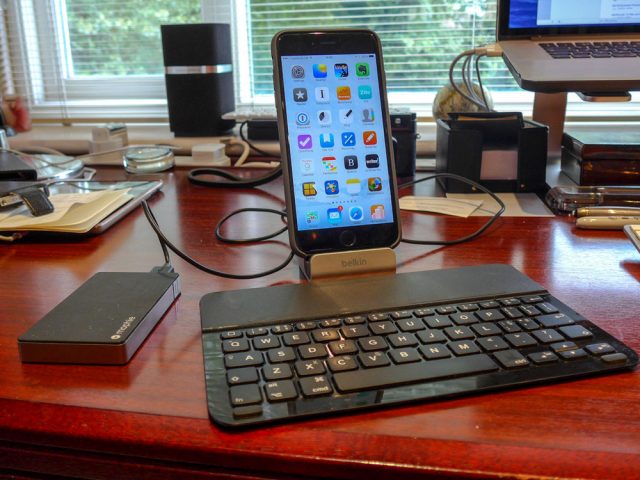 I have written extensively about the way in which the iPhone 6 Plus is made for use in landscape mode. The longer screen is perfect for apps that use a sidebar, as with most iPad productivity apps.
At the moment, however, many well-used applications do not work in landscape mode. So it it better to work in portrait mode, at least temporarily until the developers get their collective act together?
I cast around for a way of propping up the 6 Plus in portrait format, preferably without spending any money. I found it sitting on my desk looking at me ― the little Belkin iPhone dock. It isn't heavy, fits easily in a bag and has an integrated lightning cable that can be plugged in to a mains charger or spare battery. Most iPhone stands do not permit charging at the same time.
So, I set forth with the Belkin, my Mophie Power Station battery, the iPhone 6 Plus in the lightweight Apple silicone rubber back case and my modified Logitech keyboard. It is a compact and quite light set up.
Surprisingly, it works a perfectly. In fact, I am not sure that I don't prefer it to working in landscape. Certainly there are now no problems with those apps such as OmniFocus, Reeder and Moneydance that have not yet been optimised for landscape.
Belkin F8J045BT Charge and Sync Dock (cheapest I can find on Amazon)