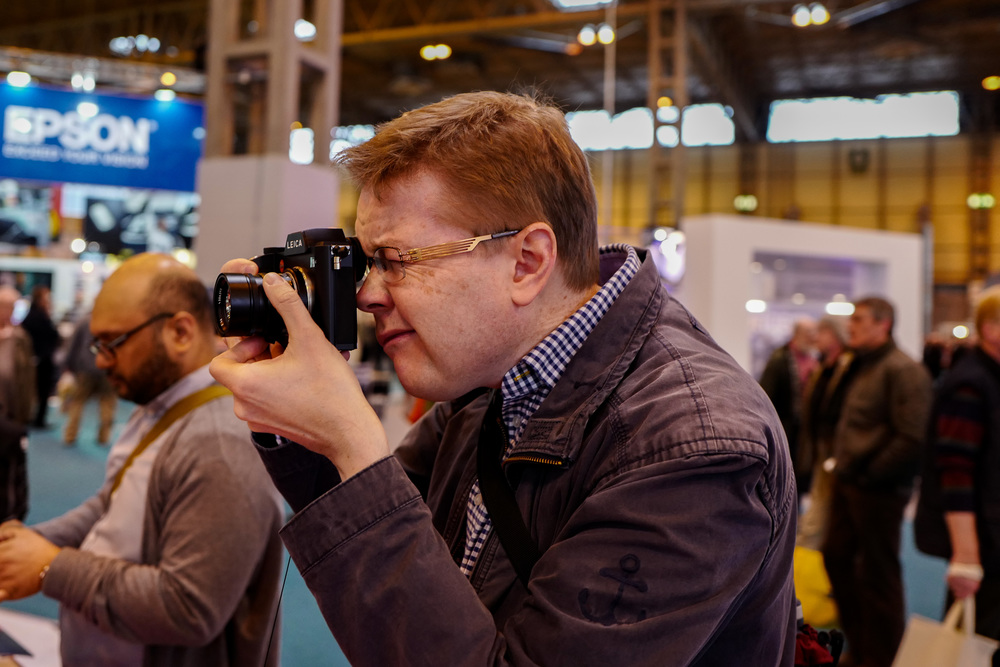 The Birmingham Photography Show has become a fixture on the Macfilos calendar and I always look forward to the chance of catching up with friends and business contacts. This year turned out to be busier than I remember it in past years. As always, there are wonderful characters to meet and photograph, not to mention the studio scenes set up for visitors to try out the various cameras and lenses. Yesterday we went by train but, before leaving the office, picked up the rather neglected Leica Q to remind us of its capabilities. It turned out to be an excellent choice, particularly because of the 28mm lens, for an exhibition.
We bumped into Hamish Gill, blogger if this Parish, whom I had never met face to face before–we have spoken and corresponded on many occasions and I occasionally link back to his interesting insights into cameras, especially the film stuff.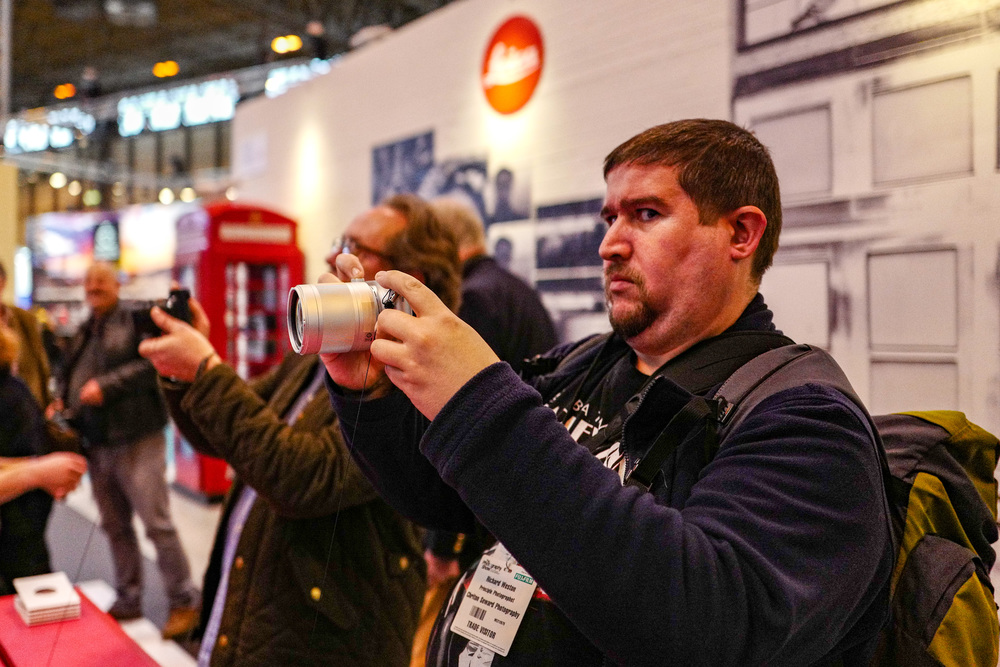 Above: There are always loads of new cameras to try out at a photo show. Left, the new Fuji X-Pro3 with stealth housing. Right, the latest Panasonic Carmen Miranda with hotshoe-mounted viewfinder
This was a great day to spend time with my friends at Leica and also at Fuji, Zeiss among others. I even had a chat with Harry Billingham (he of the bags) whom I have been wanting to meet for some time. After all, I am a prime user of Billingham bags. The only item I bought during the entire day was a new tripod which I got on Hamish's recommendation. He uses 3 Legged Thing tripods in his studios and praises the quality and value for money. I know little about tripod lore so I was happy to take Hamish's recommendation. I came away with the small Vyv alloy tripod system with AirHed Mohawk. I don't have much use for a tripod but it will come in useful, especially for lens comparisons as I did yesterday with the 1935 Elmar on the Fuji X-Pro2.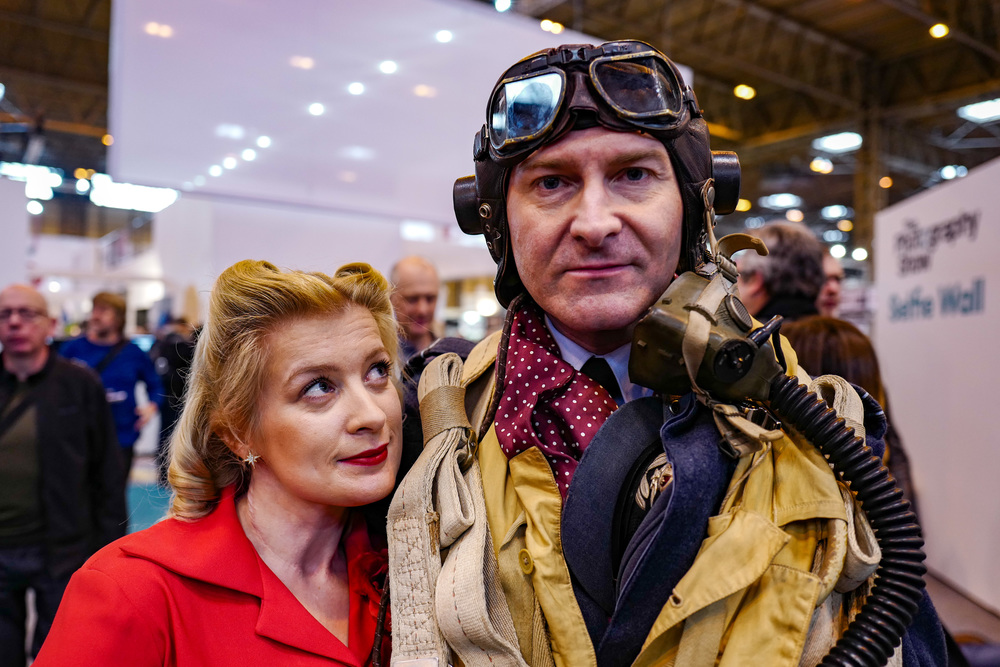 I have a bit of a thing about photo shows and fairs, as regular readers will know. So this period of the year is a busy time. On May 22 there is the very popular and extensive Photographica camera fair at the Royal Horticultural Halls in London. It's Britain's largest fair and one I never miss. Again, a wonderful opportunity to meet old friends and look for a bargain.
Above, clockwise: 1) A smart-suited Guy Grasby sporting a natty fedora and a Home Guard badge with his very own Pana-Leica creation, a Panasonic in a wooden suit. 2) Here he is again trying to convince Leica to. 3, 4) Good opportunity to try out the new camera. 5) Sony's new RX1RII, is it as good as the Leica Q?. 6) Catching the eye of Leica boss Jason Heward.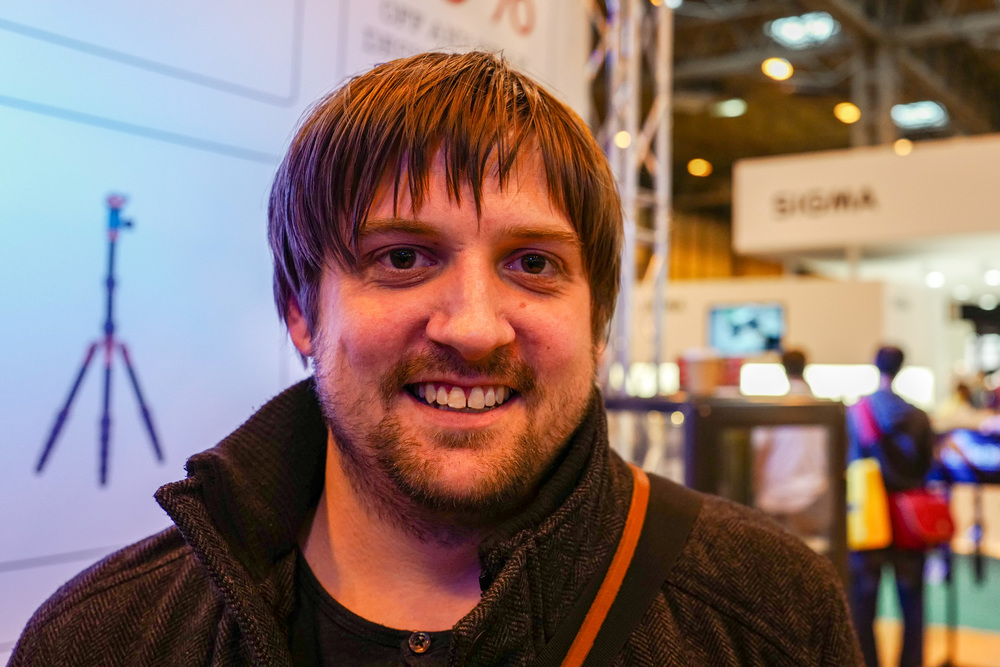 The next South London Camera Fair, which also look forward to, is on June 5 but clashes with the Bievres fair south of Paris. That's a must for me after last year's inaugural visit and I will have to pass on the South London event. Another large UK fair, the Wolverhampton Photo Fair, takes place on Sunday, April 24.
Later in the year (September 20-25) I shall also be going to the biennial Photokina at the Cologne Messe. For photo fans this is the big one and definitely one not to miss.
Of course there are many more photo fairs dotted around Britain and the rest of Europe. This is an example from Germany, but ten minutes on Google will surprise you with lists of fairs near you.
Camera note: All the photographs in this article are OOC jpegs from the Leica Q. I've been using the Q much of the past nine months and have almost always used RAW files processed in Lightroom. In general, it is what I prefer. You have seen very little in the way of jpegs from the camera, at least on Macfilos. So here, in case you are interested, is a jpeg view of life.