Something of an epicentre for street photography today, New York City has a huge draw for many photographers from around the world. Not surprisingly, as some of the great photographers we can think of today and from the past have cut their teeth on the streets of this busy city.
When I visited for a week in May, I took along one of these photographers with me for inspiration, in the form of a small book. Ernst Hass has produced some stunning images with his contemporary take during his years on the streets of New York. He was a great role model for me with his combination of documentary and expressionist photography.
I absorbed the book for clues while I was on the seven-hour flight. I didn't by any means want to copy his work but rather infuse my eyes with the expressionist images. This is something I am very interested in, with the cross over between the photograph representing both a document of a time and something of artistic insight.
Majesty
Once I took my first steps on the streets I found all those ideas soon vanished. I was overwhelmed with the majesty of the city. This wasn't my first visit to NY but I feel both the city and I had grown in the ten years since I last set foot there. I started shooting straightaway and this set my pace for the next seven days on the streets.
I found New York to have a rhythm and this was a groove I could fall into on a daily basis. There was so much going on and whispers of interesting scenes only a few steps apart down most of the streets.
To say overwhelming would be an understatement but I use the word entirely in a positive sense. I found myself reacting to this with my camera in a very free and easy type of way. I was relying on my sense of intuition to shoot the scenes in a loose way, and hopefully, capture the busy feeling of non-stop life that this city has in abundance.
While I was in NYC I found that the Brooklyn Museum was showing the colour work of Garry Winogrand. It was an event that definitely piqued my interest and a photographer that I have huge respect for. The exhibition is open until 8 December 2019 and I highly recommend visiting if you are in the city.
Rhythm
After seeing this show and becoming even more infused with the colour and rhythm of NYC street photography, I continued the path of shooting free and easy, also playing with colour and motion to add feelings to the photos.
I had visions in my head of Winogrand shooting from clips I'd caught on YouTube, I thought about how he worked so freely with his Leica and it made me feel more comfortable about shooting so loose. After all, is it important that a horizon is perfectly level? I don't ever look at works of the past masters and think, "if only that was framed a little straighter". The imperfections are what make the images perfect.
As I was working so quickly I didn't have the chance (nor did I feel it was necessary) to check shots in the chimping kind of way that we can with digital cameras. I was shooting very much for the moment and enjoying the process. Only at night would I review the images to see what might have worked from the day's shooting. The rest of the time there was too much going on to be thinking about "did I get that last photo".
Leica M6
It's quite liberating to shoot like this, like being back with film. Just enjoying the moments and process of photography. This was very much the style I shot the streets with last time I had visited the city all those years before but, on that visit, I was shooting with a Leica M6 and Ilford HP5 black and white film. There are many more 'street photographers' that we can see today who have chosen the M6 as their weapon of choice.
I don't see anything wrong with this. In fact, I'm still rather fond of that camera and still own the one I was shooting with ten years ago. Also, because of the growing popularity, my M6 has become something of a good investment with its value continuing to rise.
I have been lucky enough to grow with the times and progress to digital Leica rangefinders. I'm sure many more would do this too if it wasn't so impacting on the bank account and, yes, it does take me a long time to save to be able to afford these nice tools.
Instant results
Shooting digital makes it easier to try out new things without worrying about running out of frames. But I do feel that this comes at some cost. I'm not only talking financially but also with that important disposable element that is inherent to digital images.
Some of this come from the lack of time it takes to see the images. It's instant – you don't have to wait, and that waiting time has some magic wrapped up within it. I find that the images I take seem to be much more powerful to me when I come back to them after some time. I always revisit past images and the longer I leave them, the greater the impact they have on me.
This is a learning point and something that I have to remind myself of from time to time. I tend to shoot for only myself and personal projects so I don't need to check that last image, I just have to keep in the moment.
That way I think more about the scene and how I want to capture it – I'm living in that moment rather than through a camera screen. This is why I found so much creativity in New York; I was living in the moment and completely enjoying the process. Every so often I do tell myself, stop worrying about that last shot, I don't need to check. Trust your instincts and the tool you have. You know what you are doing, and the camera will capture it.
Leica M10-D allure
I can definably see the draw for cameras such as the new Leica M10-D (one of the latest digital M cameras to come out of Leica) with the lack of a screen on the back. It speaks of the past but has the modern convenience of a digital sensor. But why would you ever want a digital camera without a screen? On the face of it, it seems crazy but shooting like this today is something so liberating.
Yes, I have tried out this camera for a day of shooting and I'm a huge fan. I can hear many people saying, "why not just shoot with your M6 then?". Well, that's a good point, maybe I should. But what would I do then? I'd get the film developed, scan it into the computer and it's then a digital image again. Hmmm.. let's miss a step out here.
Yes, it's a lot of money to minus a screen, but shooting with something like that is all about a feeling and, believe it or not, that feeling translates to your images on one level or another.
What's the take away point here? Spend more money and buy more gear? No, not at all. There are always great new products out there and, yes, I want many of them as well. The main thing for me is believing in myself and giving myself some freedom to shoot. Get wrapped up in the process and immerse yourself in the images you're taking. Enjoy what you are doing, and it will translate in your photos.
Gear
All the photos were taken with my Leica M10, a camera that I feel is perfect for shooting the streets of any city. It's small and very discreet and I was able to zone focus, shooting from the hip. This, adding to the loose feeling kind of images I was wanting to take, just felt 'right' in the city.
I chose to take two lenses with me — a 28mm Elmarit and a 35mm Summicron. Both of them are very small, even by Leica M standards. I purposely left my larger and faster 35mm Summilux at home because it is just a little too bulky for what I was intending to do.
This allowed me to travel light and to be as inconspicuous as possible on the streets. I like to shoot wide and get into the middle of a situation, although, in retrospect, I realised I had shot 90% of the images with the 35.
This is a lens I'm most comfortable with and know how to pre-focus mainly by touch. This speeds up my shooting to the point where all I need do is press the shutter at the right time. I already have the manual focus where I want it before lifting the camera.
I also made myself a rudimentary waterproof housing for my camera because we experienced a few days of heavy rain. This came in the way of a clear ziplock sandwich bag with a hole for the lens to poke through. It made the viewfinder and focusing a lot harder but this added to my shooting scenes loose — at around f/5.6 and using zone focus. Patent pending!
Through familiarity with the 35mm focal length for a number of years, I have a rough idea of what the camera is seeing. I can't always do this and, of course, I do get things wrong. But these failures lead to unexpected results, most of the time bad but every so often I get a lucky break.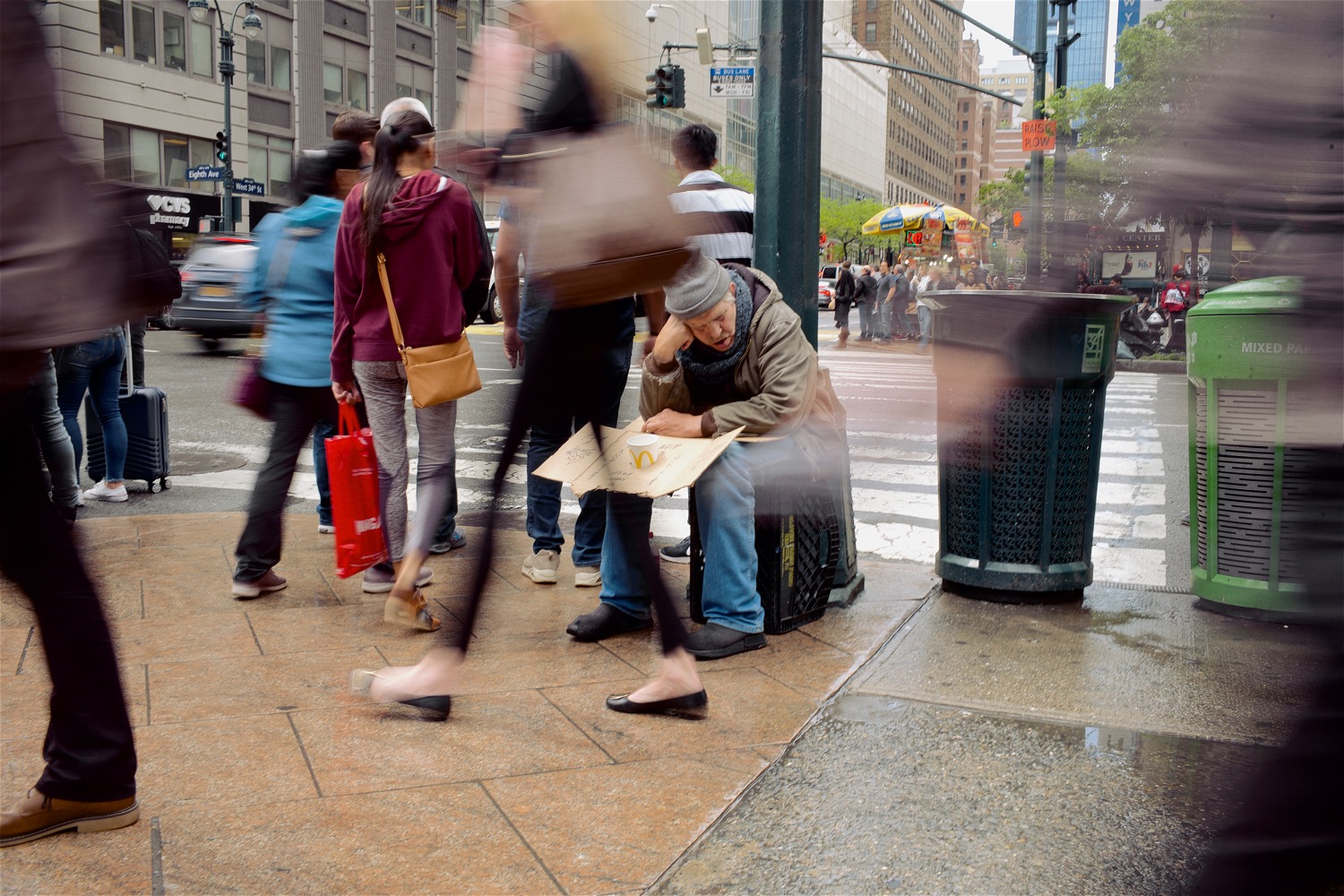 Zine
I am currently working on putting together my first zine, featuring the work I have produced from this trip. But what is a zine? Basically, it's a small magazine, more on the non-professional side of things. The primary goal isn't a question of profit, but rather to deliver the work to as many interested people as possible.
Earlier this year I released my first book. It was a great process to go through and taught me many things. I'm now taking this experience to the zine. It's a low-cost way to spread my work and it's also great to take another step forward. I very much believe in being able to produce tangible prints from the work we all produce and, as such, a zine is an excellent way to get work out there into the hands of people who might be interested.
The key thing for me is a low price so the work is accessible to everyone. Of course, this is mutually beneficial, I get to publish work and allow many eyes to see it. And my supporters are able to get a low-cost publication. I have also taken this a step further and decided to produce this zine through a small printing business located here where I live in Grimsby. Find more information about zines here.
---
If you would like to grab your own copy you can order it now from my website while the stock lasts.