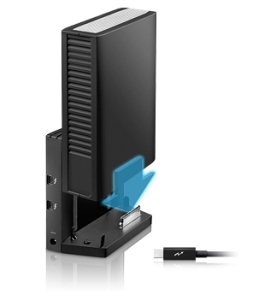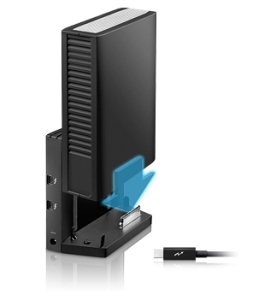 After writing about my photo archive backup strategy two days ago I did spent more time investigating RAID back-up options. While I did not change my conclusion about the effectiveness of the 6TB LaCie 2big Thunderbolt drive, I did acquire severe misgivings about the noise level from this unit. While reading a number of independent reviews, I decided I would more than likely regret having such a noisy drive near to the computer. Until we get longer (optical) Thunderbolt cables at a reasonable price, this is always going to be a factor. Instead, I settled on two
4TB Seagate Backup Plus USB 3.0 drives
and one

Although these drives are billed as USB 3.0, it is possible to add the Thunderbolt adaptor to increase data transmission speeds. The adaptor features two Thunderbolt ports (unlike many single-disk Thunderbolt drives such as those from LaCie) so additional drives can be daisychained. I would never again buy a Thunderbolt drive with just one port because it always has to be end of the line and kills expansion opportunities.
The three items, two drives and one adapter, work out at £50 less than the cost of the LaCie 2big Thunderbolt but there is no Thunderbolt cable included (as it is with the LaCie). So price is more or less on par.
I will use the Thunderbolt adaptor with one drive, thus establishing a fast storage location for my photo archives, while the second drive will be used for mirroring (a daily Carbon Copy Cloner backup) via USB 3.0. This works for me because my photo archive files seldom change (bearing in mind the current files are on the MacBook Pro's internal disk). If you are looking for an external drive for live use, perhaps for storing most of your computer's working data which changes from minute to minute, then RAID 1 configuration offers the most secure option.