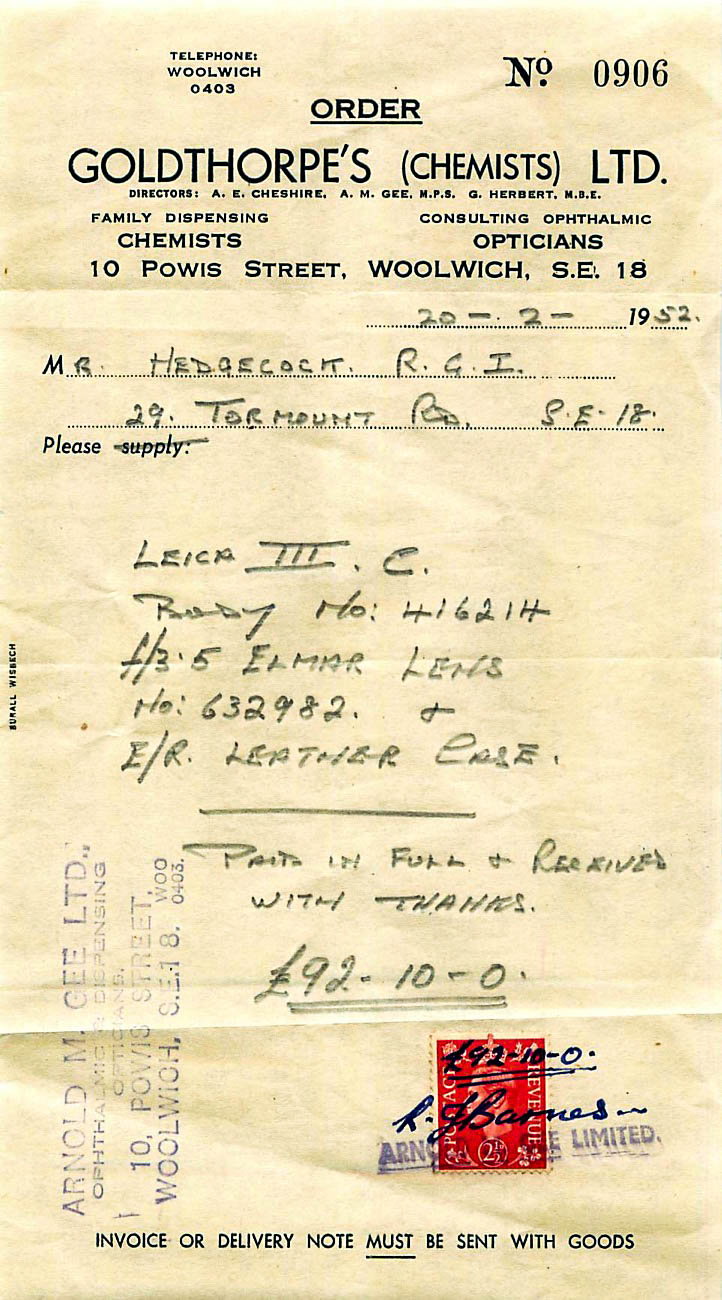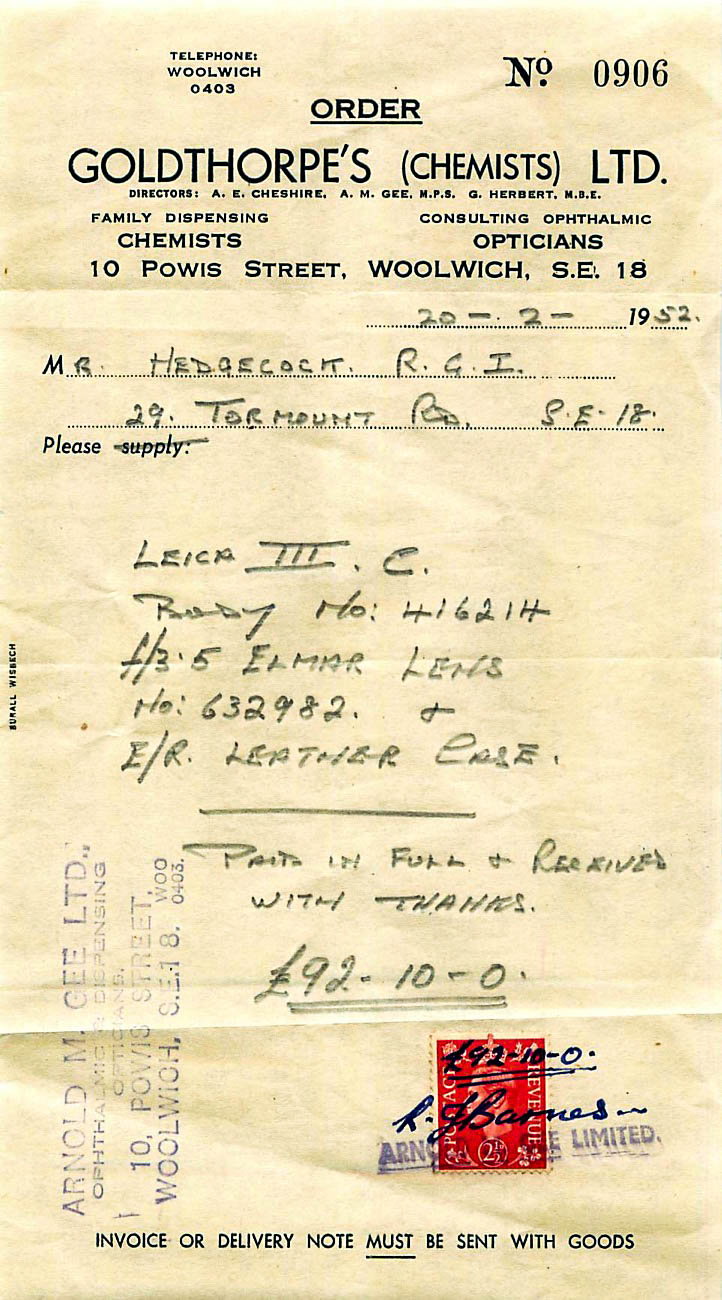 Old receipts, particularly yellowing bills for camera equipment, are a fascination. This morning I called in to see Len Lyons and his crew at R.G.Lewis, the Leica dealer in London's Holborn. On the counter, among some old books, was a copy of the New Leica Manual, a late edition published in New York in 1953, which I took a shine to. Len had been having a clearout.
A little envelope
However, I got more than I bargained for when I found a small envelops tucked inside one of the pages. Len will be relieved to hear it wasn't stuffed with money, but it did contain a receipt for a Leica IIIc purchased secondhand in 1952 from a chemist's shop in Powis Street, Woolwich. This is but a hop, skip and a jump from the Thames Barrier which I wrote about and photographed recently using Leica's most modern M-P and the wonderful 50mm Leica Apo-Summicron lens loaned by Leica Store Mayfair.
James Bond of Leica
In those days chemists sold film and, often, stocked cameras and lenses. Indeed, R.G.Lewis started life in Enfield as a chemist's run by Richard Lewis. His son, Norman Lewis (who went on to be a famous travel writer and British spy in addition to camera dealer) started processing film above the shop.
Later, when he inherited the business from Dad, he transferred it to Holborn in central London where it became the specialist Leica dealership it has remained ever since. The intrepid and ever-resourceful Norman (the James Bond of the photographic trade) would smuggle Leicas out of Nazi Germany concealed in the spare tyre of his Hispano-Suiza. Len Lyons doesn't get up to antics like this.
Huge price
What is remarkable about this particular receipt is the high price of a six-year-old camera. Both camera and lens were made at Wetzlar in 1946, the first year of production after the end of the war, and I can be fairly certain they were sold originally as a set. But £90. 10s. 0d. (£90.50) was a huge sum for a used camera at the time. The equivalent in today's clipped coinage would lie between £2,500 and £3,000. Behold and weep.
In the early fifties an average annual wage was £500 and a decent council house could be had for £25 a year, just to put this value into perspective. In reality, therefore, Mr. R.G.I.Hedgecock of nearby Tormount Road, SE18 would have had to stump up a vast sum for his new toy. Nevertheless, he did get a leather case thrown in. And a leather case alone in 2015 would cost three times as much as this camera did then, ignoring inflation.
Admittedly, in those days of rationing and restricted imports, Leicas were in short supply and I suspect second-hand prices were inflated as a result. This was certainly true of cars. At that time a prewar Austin was the best most comfortably-off middle-class people could aspire to. Others had to walk or buy a bicycle. Post-war cars were incredibly difficult to find; and I imagine the same applied to quality cameras such as the Leica.
A bargain
What, though, would this very camera and lens sell for in 2015? I called Len Lyons and he was quick with the answer: £400 or, let's say, £399 to you mate. Mr. Hedgecock would have had to wait only 63 years to quadruple his money. Coincidentally as it happens, Len has an identical IIIc and Elmar in stock. Don't all rush at once.